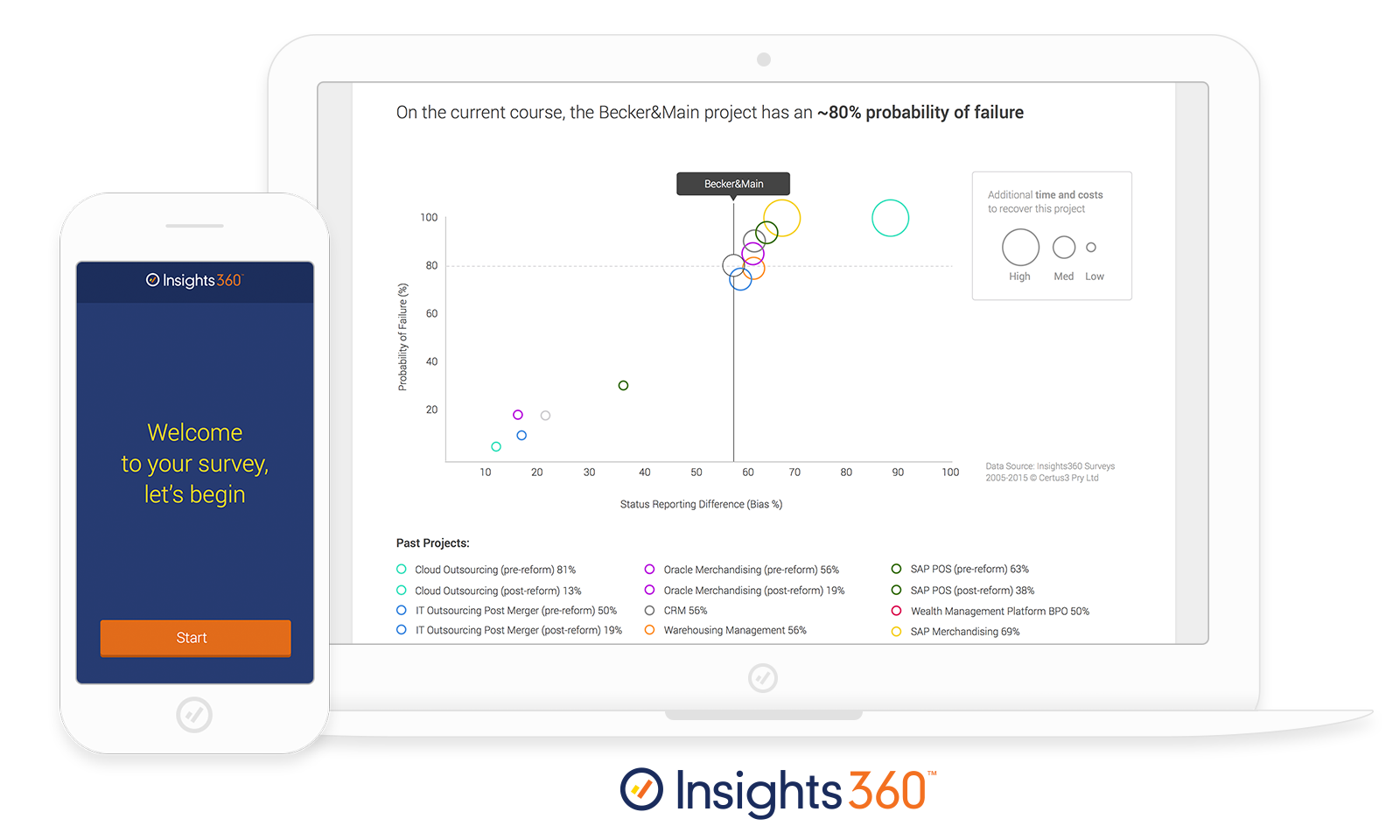 The perennial topic of concern for those stewarding large and complex programs of work is the potential of project failure, and the inevitable cost tethered to it.
According to the Project Management Institute poor project performance results in organisations losing $109 million for every $1 billion invested in projects and programs.
Organisations who have the project management process right succeed in successfully implementing approximately 89 percent of their projects, while those less competent complete only 36 percent.
Like Hamlet those at the helm know when something's rotten within their project, but not understanding the root cause or how to find it easily are left with little choice other than to ride it out and hope for the best.
Of course we all know where this approach leads but surprisingly, it continues to happen over and over again.
Certus3 has helped many clients reverse the rot and recover some very difficult projects. Knowing how to spot trouble on the horizon therefore has become a staple and the businesses' core foundation for success.
"Clients continue to be astounded when we link all project issues back to 'people'. It's exactly the same every time, regardless of industry, type of project or geographical region," explains Michael Devlin, Managing Partner of Certus3.
Reaping some of the value being left on the table by most, if not all, organisations was the motivating factor behind the development of Certus3's project diagnostic tool, Insights360™
Used pre-emptively or after signs of rot have occurred Insights360 can tell you what or who you should be monitoring, and managing to ensure project success.
Below is a sample of two common people-related issues regularly uncovered by Insights360™:
WAVERING SUPPORT FROM MIDDLE MANAGEMENT – Middle managers commonly acquiesce to accommodate the lead players in enterprise politics.
Middle managers struggle to see the project's importance if not solidly bound to their own personal performance evaluations and therefore redirect resources and attention to activities publicly supported by the powers that be.
LOW INVOLVEMENT FROM STAKEHOLDERS – Often the allocator of resources, an un-engaged stakeholder will more often than not withhold key resources, making project failure fait accompli.
If key stakeholders aren't participating in major review meetings, they are not engaged.
Such behavior sets the standard, and becomes the norm making it increasingly difficult for the project to recapture their attention and the subsequent resources to finish the job.
While only two people-related project issues have been cited above, rest assured, the project eco-system like Hamlet's Denmark, host a vast array of hidden issues to uncover and arrest.
Contact Certus3 to arrange a demonstration of Insights360™ and make sure you're successfully tapping into the ENORMOUS potential value of improving project management performance.
ABOUT INSIGHTS360™
Insights360™ is a survey-based diagnostic tool that guarantees early risk and issue detection for senior executives in charge of large and complex programs of work. The proprietary tool is used by program managers and senior executives interested in understanding the 'true' status of their projects.
ABOUT CERTUS3
Established in 2007, Certus3 assists organisations manage large-scale programs of work involving wide reaching organisational change. Offering program delivery and program management consulting services, the team's growing client portfolio includes successful Australian corporations like Woolworths, Perpetual, Asciano, Myer and News Corp.
CONTACT
Melinda Young
Certus3 PR & Communications
M: +61 430 433 989
E: melinda.young@certus3.com
T: @MelCertus3