Media Release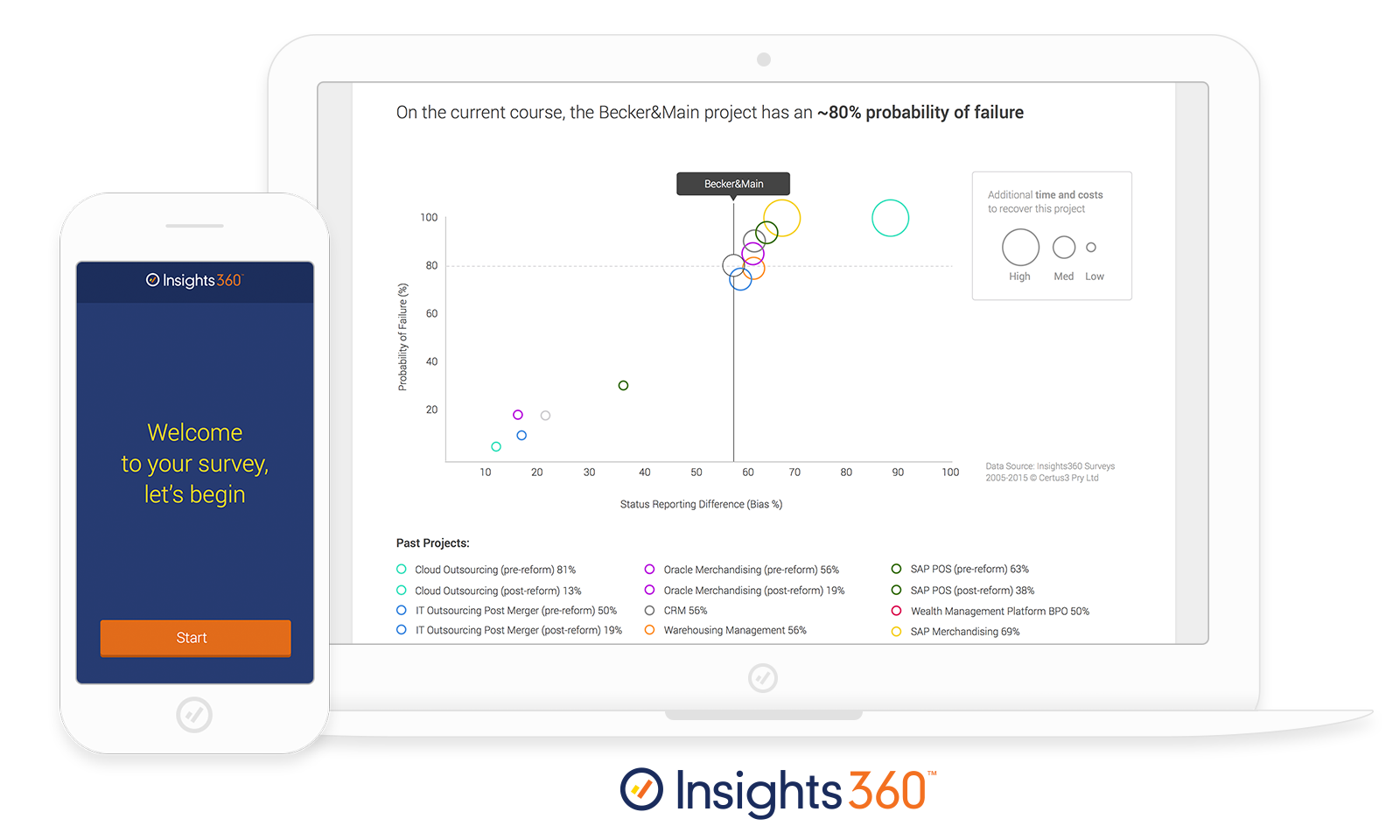 Senior Executives and Program Managers have welcomed a new tool that offers a glimpse of the future for large-scale programs of work within their sphere of influence and responsibility.
Launched this week by Certus3, Insights360™ analyses behavioural data to predict a program's probability of failure, while also identifying and rating program problems, giving leadership the information needed to determine future direction.
The product of 10 years of research and development by Certus3, this innovation is the first dedicated tool for the management of project success to be developed in recent times. Inspired by a desire to arrest the repeating patterns of failure witnessed within projects by the team, Insights360™ represents years of problem diagnosis and management experience.
According to the Project Management Institute's recent global report The High Cost of Low Performance, poor performance is seeing organisations leech up to $109 million for every $1 billion invested in projects.
The growing dependence on large-scale programs to deliver business transformation has led to unprecedented pressure on those responsible for delivering it.
"Insights360™ is ideal when you know something is wrong, but can't determine the source of the problem and require a full and accurate view of the program's 'true' status," explained Certus3 Managing Partner and Insight's co-creator, Simo Popovac.
Accessed online, the survey-based tool asks respondents to consider behaviour and opinion-based questions, making causal links between specific behaviours and their impact on program success factors such as scope, schedule, cost and benefits.
"Dysfunctional behaviours are present in programs long before they become visible in program status reporting. By linking behavioural measures to success factors like scope, schedule and cost, corrective action can be taken early," said Michael Devlin, the other half of the Certus3 partnership team.
"Insights360™ makes it possible for leaders to identify ineffective behaviours before they become ingrained and impact program delivery."
Australian corporations like Telstra, National Australia Bank, Woolworths, Perpetual, Asciano, Myer and NewsCorp have each experienced the benefits of Insights360™ within broader multi-tiered preventative and diagnostic initiatives.
About Certus3
Established in 2007, Certus3 assists organisations manage large-scale programs of work involving wide reaching organisational change. Offering program delivery and program management consulting services, the team's growing client portfolio includes successful Australian corporations like Woolworths, Perpetual, Asciano, Myer and NewsCorp.
About Insights360™
Insights360™ is a survey-based diagnostic tool that guarantees early risk and issue detection for senior executives in charge of large and complex programs of work. The proprietary tool is used by program managers and senior executives interested in understanding the 'true' status of their projects.
Contact
Melinda Young
Certus3 PR & Communications
M: 0430 433 989
E: melinda.young@certus3.com
T: @MelCertus3