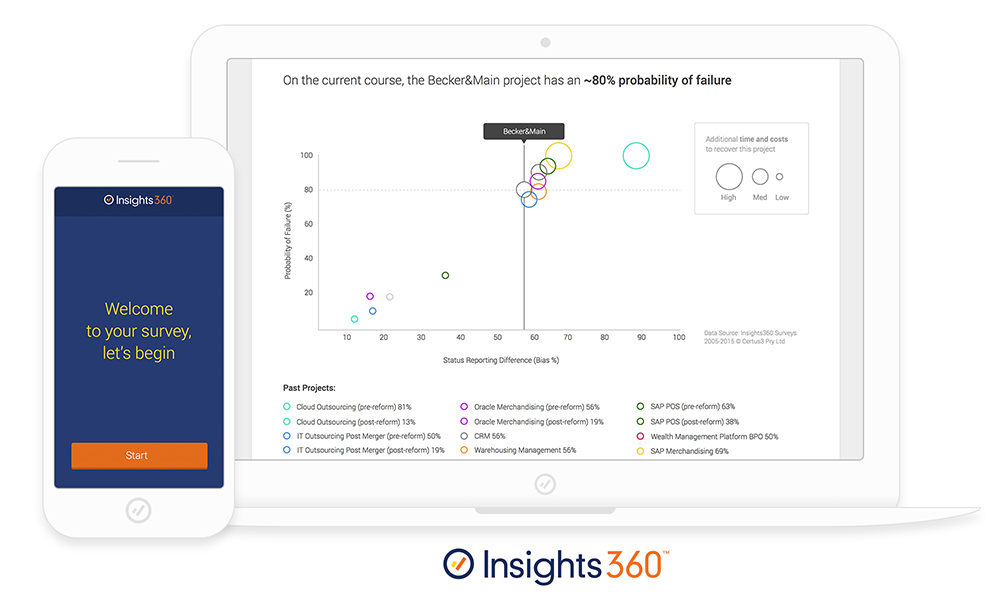 Certus3's Insights360™ has more than delivered for Asciano, providing the organisation with 'real' insights into the projects they are undertaking."
What do you mean by 'real' insights?
"The differences that exist between the officially reported project status, as put together by the Project Manager, and the informal project status is vast. Insights360™ enables the layers of traditional project reporting to be peeled back, exposing the 'real' status, commonly understood but never officially declared.
A review of Asciano's projects showed that status updates did not provide a 'real' view of progress and consequently were not a good indicator of project health and future success."
Why is it important to understand the 'real' project status?
"An understanding of the causal links between attitudes, behaviours, project progress and future outcomes is crucial in either rescuing a project in-flight, or protecting one from failure in its infancy.
Insights360™ gives valuable time back to those responsible for project management – time to prevent risks or repair issues before their impacts leave an indelible impression. This was certainly our experience.
With a minimum amount of effort the tool enabled us to provide a comprehensive view of project success, our distance from it and an indication of the areas we needed to zero in on in order to achieve success.
In addition to protecting projects from failure the tool also highlights well managed projects and can be used to establish benchmarks and perform periodic project health checks."
How often has Asciano used Insights360™?
"Asciano has leveraged the insights provided by the tool in many of its recent and most notable projects:
Project Gemini, a cloud-based managed service solution migration for its infrastructure and applications
Patrick Terminal Operating System (TOS) Project, a newly designed system responsible for all aspects of day-to-day terminal ports and stevedoring operations
Customer Relationship Management (CRM) System Project, currently in its scoping and business case development phase.
The repeated employment of Insights360™, has created a pattern, unplanned initially, but one that has unofficially become part of our stage-gating process and one that is well positioned to become an official pre-requisite to any silver or gold stage gate milestones in the future."
What aspect of the tool do you find most helpful?
"The relationship that the tool establishes between behaviours and factors that determine project success or failure, such as scope, solution, schedule, stakeholders, team, budget, benefits, issues and risks is invaluable.
Being a data-driven decision-maker, I appreciate the statistical basis of the tool and find comfort in the logical back-end.
Other helpful aspects include ease of use, it's available online and so can be completed at any time and from virtually any device, it's anonymous, fast, and not particularly expensive – all important traits and helpful selling points when attempting to gain executive buy-in."
Would you use Insights360™ for another project in the future?
 "Absolutely."
ABOUT INSIGHTS360™
Insights360™ is a survey-based diagnostic tool that guarantees early risk and issue detection for senior executives in charge of large and complex programs of work. The proprietary tool is used by program managers and senior executives interested in understanding the 'true' status of their projects.
CONTACT
Melinda Young
Certus3 PR & Communications
M: 0430 433 989
E: melinda.young@certus3.com
T: @MelCertus3